Many avid gamers may have noticed that many developers love putting "Morality Systems" into their video games. The idea is novel, if not usually underwhelming. The idea is that if you give the player different choices in the game, he will become more invested in it. A great way to make the player feel involved is to let them have the fate over the characters and world in the game. This is essentially a form of what RPG's have been doing since the days of Final Fantasy and Dragon Quest on the NES. An RPG's main focus is on how you character adapts to the world around him, though. A Morality System's main focus is on you changing the world around your character. The problem is most of them don't work.
... Well, it is a bit more specific than that. There are two main problems when it comes to designing "moral choices" in a game.
Number 1: Choice means nothing without conflict.
Let's think about this for a moment. When you go to a restaurant, you have to choose what kind of food you want. The conflict in that situation would be deciding which of the food choices you want to eat. There could be many different options, but you are probably only gonna have room for one type. That choice, of which dish you want to eat, now has conflict. Either way, you are gonna be satisfied, but you had to give up one of the options. Most games, however, don't have options that can cause conflict for the player. For many games, they rely on a good or evil choice system. It means that the player's character will do a "good" or "evil" thing that will affect part of the story. The problem here is that it usually doesn't.
That is the look of a man who has no clue what to say till you tell him to say it.
The
Mass Effect
series was built around the idea that every choice that the Player made wold affect the entire series, including how it would end. And, true enough, there were some pretty deep moral choices put into the game. At one point in the second game, you were to decide the fate over an entire race. They had been an enemy throughout the entire game at this point, and you had an unique option. You could either Brainwash (or Reprogram) them to join your cause, or you could destroy them all. Now, if you have ever watched
Extra Credits
(and if not, you really should), you may have seen an episode where they discussed this very point. It made the writer of the series, James Portnow, sit and stare at the TV for half an hour as he tried to decide what to do.
Here is the episode in question. Give it a watch if you want!
http://penny-arcade.com/patv/episode/enriching-lives
For him, this was a big moment. It forced him to consider what his views are.
For me, it was simple: Brainwash them.
Now, you can see where the developers were going with this. They meant to make the player really consider how his actions would affect the world. And to many, it did work. I mean, it made James Portnow stop in his tracks to consider the ramifications. When I played this game however, there was no moral choice here. I viewed the choice as to how it would affect my gameplaying experience. In either option, the robot enemy would be out of my way. So now, the choice became, do I kill them off, or make them my allies in the game. Being allies would probably help me win the overall series alot easier, while killing them would not affect my gameplay at all. No matter which option I chose, they were out of the way. So why not have them help me? This is where the flaw was revealed to me. The choice became less about morality, and more about game difficulty. It just became about whether I like tougher gameplay or easier gameplay. Now, maybe if up to this point, I had more interactions with this race besides making sure my bullets hit them, it might have meant more to me. The only person of this race you interact with can't even be affected by this choice, so there goes any emotional connection. The developers really wanted me to consider how this would affect the game world, but in the end it made no difference at all.
Number 2: Morality is biased.
The biggest challenge a developer faces when making morality choices is deciding what is moral. Despite what many people like to think, there is no universal "good" or "evil"... at least not that any human can figure out. Every person has their own idea of what is "good" and what is "evil", right and wrong. That whole idea is probably not gonna sit well with people, but hear me out. Each society has their own views on what is right and wrong. We grow up learning these "values", and then teach them to our children. Think about how in places like areas in the Middle East, women are treated like property. We can sit here and think about how disgusting that is, but for the longest time in our history, we did the same thing to African Americans. Think about how you see some Christians talk about God's love towards everyone, while others say God hates gay people and anyone who disagrees with the church is going to hell. These aren't people being evil (even though it can sure seem like it). They are simply doing what they "believe" is right.
Ok, that was alot of heavy, but necessary, discussion. Lets move back onto topic. Game makers who put "good" and "evil" choices in a game have to assume that the people playing it will have the same views as them. The best example I can give is
Fable 3
. This game series has always tried to create deep, emotional choices for the player to make. The problem is that they labeled each choice as good or evil.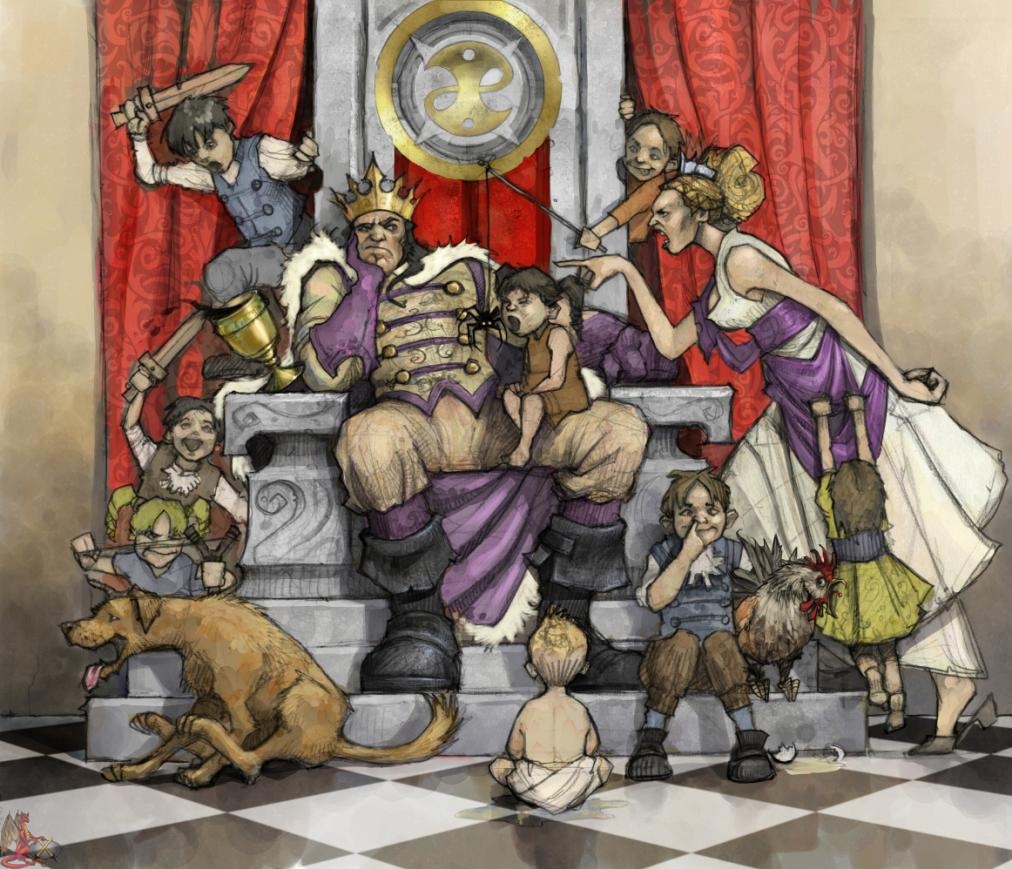 Being royalty is fun...
Near the end of the game, you are proclaimed the king of your kingdom. You are tasked with saving the kingdom from an attack that will happen in 1 year. The former king ruled with perceived cruelty, but you learn that he was simply trying to make sure he had the resources to fight this upcoming war. So when you become king, you are immediately presented with choices that will affect your kingdom. You can choose the good option, which repairs the damages the former king did to the kingdom, or you can choose the "evil" option, and continue the hardships so you can make sure the kingdom is ready for war.
Do you see where the problem is in this situation? The evil option decrees that everyone suffers, but gets to live another day. The good option means everyone is happy... until... you know...
Why can you not just have the hardships for one year, then after the war, restore the kingdom to normal? Why can't, as king, you explain to your citizens that war is coming, and everyone needs to stop partying and get ready to defend?
Because the game won't let you. There are no reasons in the game for this. The developers just took out the options. Still, at least you are faced with a choice... or are you?
You can supply the funds yourself to defend the kingdom from the money you make when you go on quests and from buying real estate. And since buying houses basically lets you print your own money, that means you can do the good option AND still win the war. So now, that question of morality was destroyed with an act of laziness. My theory (and it is just a theory) is that someone saw the earlier flaw, but instead of reworking the game, just slipped in this little "get out of jail free" card. So, not only did your choices suck, but you didn't even have to make a choice.
I wanna give one more example from this game, before I move on. There is a choice as King to either remove the alcohol tax, leave it alone, or raise it. Now, since the game labels "remove tax" as the good option, I chose it. Next thing I know, everyone in my Kingdom is drunk. I'm not sure about you, but I have a hard time thinking that everyone becoming an alcoholic in the face of Armageddon is the "good" option.
Yep... we're ready for war now...
So, we know that choice (for a gamer) means nothing without conflict, and that everyone has different views on "right" and "wrong. How can a developer implement moral choice into their game that will involve the player? Well, it is easier than you think: Take morality out of it. The developer can still give the player choices that can really make them think, but without calling things "good" or "evil". The goal should be to make the player make a choice that will affect his gameplay. The best example I can think of to look at is
Fallout: New Vegas
.
Yes, believe it or not, this bug-ridden glitch fest did something right.
Now, New Vegas still had it's "Karma" system, a feature that stuck around from Fallout 3, but let's ignore that for a moment. They added a unique feature that too few games have thought to add: Factions. Every town and every group in the game had a "faction" that they represented. Many of them were enemies to each other, but to the player, he basically starts out neutral to everyone. To go on a mission for someone in the game, more than likely, you'll come into conflict with another group. They may not want you to do what the first group asked, and then you are presented with a choice that has conflict for the player. What benefits to my gameplay do I get for picking a side? Maybe one side will offer you more money. The other side might offer a great weapon you had not found yet. One may have a character on their side that you enjoy talking to or doing missions with. The player now has to think, what option do I want to let me further enjoy the game? There is no simple option because each player may want different things. One may want more money, so they can buy a house in the game. The other may want that rare weapon instead. Maybe they want both, and now they have to really think hard. This choice means more to the player because it will affect his gameplay. In Mass Effect and Fable, many of their choices were meaningless because they didn't affect how the player would interact with the game. But in this game, the choice meant that the player could either get one great option, or a different, but still awesome one. Now they just had to choose which one.
Not every game needs to have factions, but you should make sure that if you want to have choice in a game, the conflict has weight for the player. If you simply make the player choose between options that only really affect the story, and not the gameplay in any real way, they will only focus on what will help them finish the game. Naturally not everyone who watches this video will agree with me. That is my main point in this article. Your view of the "right" thing to do may be different than mine, but that doesn't mean that it is a bad option, or that mine is the bad option. To me, morality systems are not working, but to you, they may be the best thing about your game. Just don't expect everyone to agree with you... I know I won't.